National Youth HIV/AIDS Awareness Event
April 21, 2016 @ 7:00 pm

-

10:00 pm

Free
The Coastal Health District is observing National Youth HIV/AIDS Awareness Day with "Know Your Status" Skating Party. Young people ages 13-24 who get tested for HIV at either Chatham County Health Department location between April 4-8 (see below for dates and times) will receive a free admission ticket to a skate party at Star Castle on Thursday, April 21.
HIV testing is free and confidential. No appointment needed.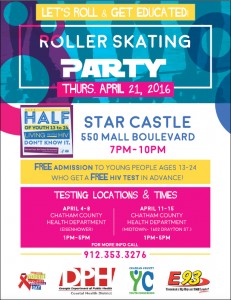 Testing Locations & Times

1 p.m. – 5 p.m., Monday through Friday, April 4-8
Chatham County Health Department, 1395 Eisenhower Drive, Savannah
1 p.m. – 5 p.m., Monday through Friday, April 11-15
Chatham County Health Department, 1602 Drayton Street, Savannah
Skate Party
7 p.m. – 10 p.m., Thursday, April 21
Star Castle, 550 Mall Boulevard, Savannah
Today's young people are the first generation that has never known a world without HIV and AIDS. In the United States, almost 40 percent of new HIV infections are young people ages 13 to 29. Despite this harsh reality, young people and their allies are determined to end this pandemic.
It is more important than ever to recommit to the fight against HIV and AIDS. We must continue to invest in scientific advancements like a vaccine and a cure – without forgetting the importance of prevention strategies and ensuring equal access to information and healthcare for everyone.
Most importantly, we must invest in young people – bring them to the table not only as partners, but also as leaders that can truly turn the tide of the HIV and AIDS epidemic. Only by fully investing in young people – in their health, their education, and their leadership – can we reach an AIDS-free generation.
For more information, please call Diane DeVore at (912) 353-3276 or email  Diane.Devore@dph.ga.gov or visit http://www.advocatesforyouth.org/
The event is sponsored by the Coastal Health District Prevention Program, the Chatham County Youth Commission, and WEAS-FM 93.1.