ChathamHealthLink is a Health Information Exchange (HIE) established by the Chatham County Safety Net Planning Council, Inc. (Planning Council) in 2008.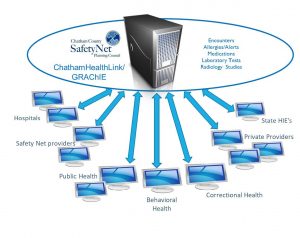 HIEs are a recent concept that enables all health providers involved in a patient's care — whether in a primary care setting, a specialists' office or emergency department — to share vital patient information including medications, pre-existing conditions, allergies, immunizations, lab results, appointment history and more from within electronic medical records (EMRs) at the point of care. HIEs minimize manual and often time-consuming information gathering while helping to improve care coordination and reduce adverse events, complications, hospital readmissions and duplicate tests.
In December 2014, the Georgia Regional Academic Community Health Information Exchange (GRAChIE) and ChathamHealthLink announced a partnership to interconnect their respective HIEs. The move benefits more than 1 million patients of the combined provider memberships of GRAChIE and ChathamHealthLink, giving more than 2,200 providers within the two networks electronic access to those patients' health information at the point of clinical care, regardless of location.
"The goal of every HIE is to help providers perform better as stewards of local and regional patient care by lowering costs and improving outcomes, and this partnership greatly extends that advantage throughout the state," said Chatham County Manager Lee Smith. "With this arrangement, for example, a GRAChIE-affiliated ER team in Macon providing emergency care to a patient from Savannah will have immediate access to that patient's medical history, and the patient's primary physician back home will have full details at hand when the patient returns for follow-up. That level of care coordination will eliminate a great deal of unnecessary costs while fostering more informed care provision."
As of As of June 30, 2018, GRAChIE contained 2,557,816 unique patients with 39 data contributors.