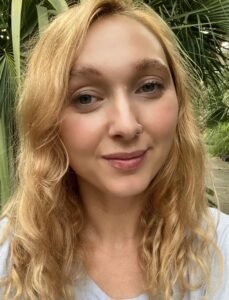 Kierstin Graham is a Trauma Informed Mindfulness and Movement Mentor, Yoga Alliance Continuing Education Provider (YACEP), 500 Hour Trauma Informed Experienced Registered Yoga Instructor (TIY E-RYT 500), Reiki Master, and Breath Coach. She is also a trained Applied Suicide Intervention Skills Training (ASIST) helper.

Kierstin received an Associates of Arts degree from Collin College while completing the 200 Hour Yoga Teacher Training (200 RYT) program. After earning her 200 RYT certification, Kierstin set out on a  mission to make yoga more diverse, accessible, and inclusive. This required creativity and willingness to teach classes in a variety of spaces, including local parks, schools, small businesses, and even a petting zoo with goats!

Kierstin has practiced yoga since early childhood, inspired and taught by her Grandmother, also a yoga instructor. In 2018, after working with Yoga-N-Da-Hood, a non-profit organization dedicated to bringing yoga and mindfulness to high needs schools, Kierstin realized her passion for providing yoga to underserved communities and individuals impacted by trauma.
Kierstin recognizes that trauma does not affect everyone in the same way. She hopes that by meeting people where they are, providing them with the tools they need, and holding space for those who suffer, she can bring healing and help others feel empowered and comfortable with all parts of themselves.
Specializations: Behavioral Health, Addiction/Recovery, Eating Disorder Support, and Continuing Education and Mentorship for Trauma Informed Mindfulness and Movement.
Read Kiesrtin's story here: Voyage Savannah Magazine; Shoutout Atlanta.
Listen to Kierstin's story here: WRUU Podcast
To bring a TSY class, online or in-person, to your organization, please contact yogawithkierstin@gmail.com or visit www.duality-rising.com.
♣  ♣  ♣
---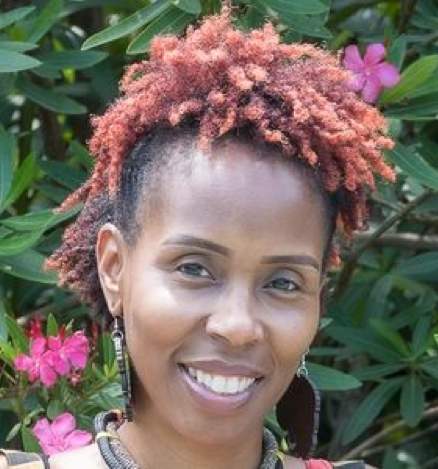 Mrs. Tanisha Taylor received her Master's in Science (MS) in Social Responsibility from St. Cloud State University, St. Cloud, Minnesota; and her Master's of Social Work (MSW) from Savannah State University, Savannah, Georgia. She is a social worker with experience in clinical and administrative settings.
Mrs. Taylor is presently working in the field of education as a Program Specialist with TRIO/Educational Talent Search at Savannah State University. She has worked at Hampton University, as a Program Specialist also.
Mrs. Taylor is a Certified Yoga Instructor and Certified Trauma Sensitive Yoga (TSY) Teacher. She serves as the primary instructor for Yoga In the Moment (YITM).
Mrs. Taylor has been a vegetarian for over 20 years and advocates healthy eating as well as healthy lifestyle. Mrs. Taylor specializes in helping sedentary people become more physically active and fit through yoga. She has worked with various populations including kids and the elderly.
Specializations: Sedentary Community, Elderly, and Preteens/Teens
Please contact Mrs. Taylor at zeiglertanisha@gmail.com.
♣  ♣  ♣
---
Jonalyn Lavarias first discovered yoga in 2006 to complement her active lifestyle of hiking and running in Alaska. Little did she know it would be a major part of her life journey through healing, transformation, and recovery. After spending 11 years in the accounting industry, she decided to pursue teaching yoga and share the practice with others. In 2017, she received her 200-hour yoga teacher training certification from Anchorage Yoga. 

In 2022, she completed her Trauma-Sensitive Yoga certification and currently teaches this type of yoga to the Savannah, GA community at the local high schools, hospice, and women's shelter.
She has experience teaching all levels and ages and welcomes anyone who is willing and able to learn the practice. Her teaching styles include vinyasa, power flow, gentle and restorative.

Her purpose is to help people heal with yoga and meditation in a safe and nurturing environment. Expect to breathe, move and connect with your mind and body during her practices. 

Specializations: domestic violence, women, senior citizens, teens, beginners, veterans
Please contact Jonalyn at jonalyn9@gmail.com.
♣  ♣  ♣
---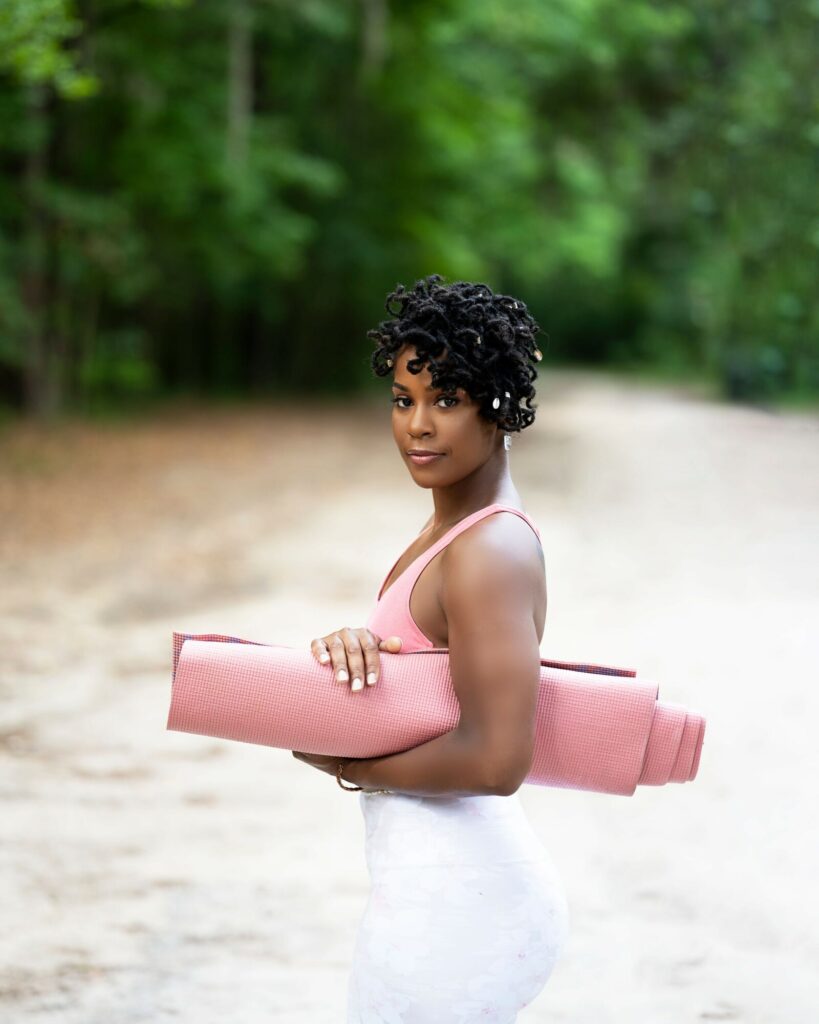 Myra Smith was born and raised in Cleveland, Ohio. Myra has always been into dance in creative arts — it came natural to her. She moved to Savannah, Georgia in 2014 and later was blessed with a baby girl. Since then, being a mom has been the best thing in life to her!
Myra loves serving people — that's her purpose and always has been. Her personality resonates with any stranger in a way they feel comfortable and powerful enough to practice.
Myra's teaching style is a mixture. While she creatively generates practices specifically for her classes beforehand, she chooses to gauge each class as the flow begins based off her students' strengths and weaknesses — and that's how she is able to queue and complete a practice.
Myra appreciates every yogi that she has been able to reach throughout her journey. She looks forward to changing more mindsets and physicalities, one breath at a time.
Specializations: traditional restorative, Vinyasa, power yoga.
Please contact myra at i2eyogabymyra@gmail.com.
♣  ♣  ♣
---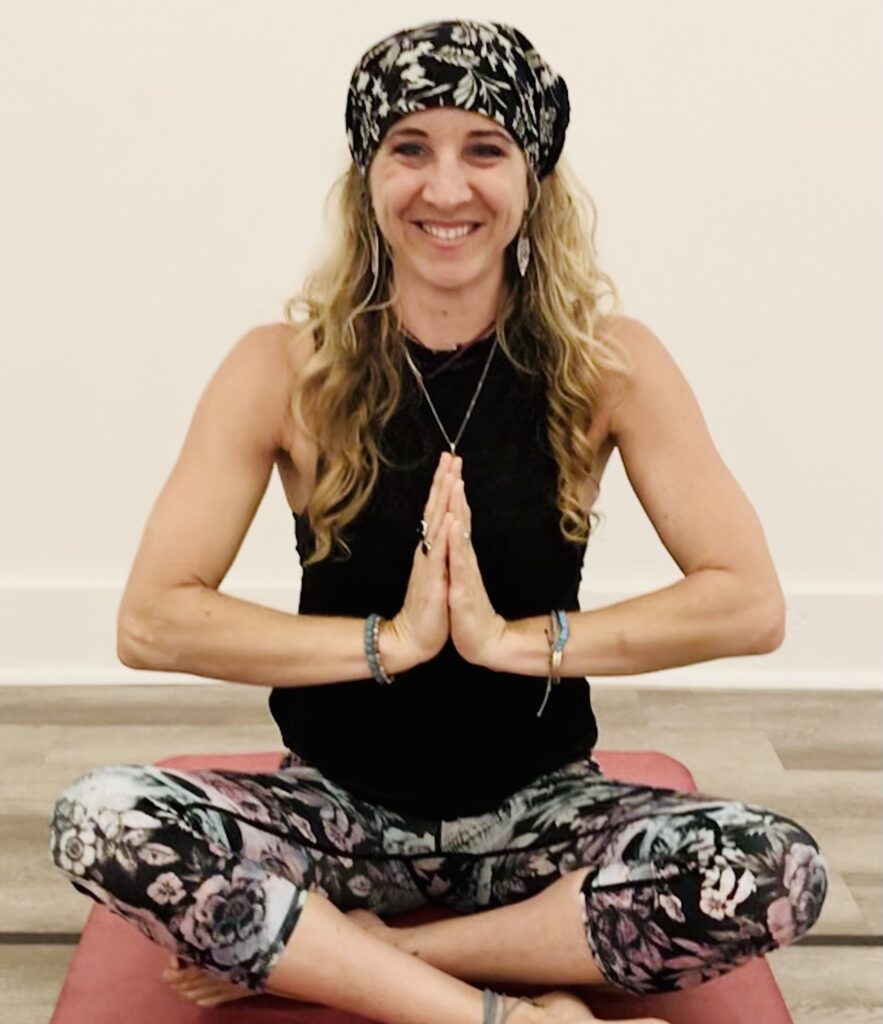 Joanna Tyler began her yoga journey over twenty years ago while taking theater courses. This was the start of a life long body, mind, and soul journey where yoga became not just a practice but a key to her existence!
In 2017 Joanna attended the Anahata Yoga Shala in Koh Phangan Thailand where she received her 200 HR YTT certification. She then went on to become certified in Children's Yoga Instruction, and in 2021 completed her Trauma Sensitive Yoga certification.
Joanna's teaching style is intuitive and adaptable to the students' needs, levels, and capabilities, ranging from the very beginner to the advanced yogi. This also includes yoga games and movement-based stories with kids! Joanna loves teaching a wide variety, from gentle and restorative, to all levels vinyasa, to a more dynamic power flow with a main focus on honoring yourself, the earth, and those around you. She has taught in studios, schools, centers, classroom floors, and open fields from Thailand, to New York, to Oregon, and now here in Savannah GA.
Joanna's mission is to spread the practice, joy, and all the physical, mental, and self-loving benefits of yoga and ensure that it is accessible to everybody!
Specialization: Youth
Please contact Joanna at joannatyler66@gmail.com.
♣  ♣  ♣
---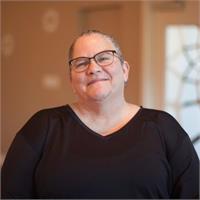 My name Franessa Stalter, Yoga Fran to some. I spent over 30 years in parks and recreation profession in Illinois, Arizona and Georgia.  My journey and passion into yoga began with my personal practice in 2012 as a means to ease my mind and strengthen my body after undergoing treatment for breast cancer.
My Dharma is to teach yoga. I am a 2018 graduate of Spry Mind and Body Teachers Leadership Training program in Savannah, GA and am a registered RYT-500 with Yoga Alliance. The mission of Spry Mind+Body is to support and promote healthy aging, in community, through mindful movement and stillness. Since graduation my teaching includes yoga classes for adult individuals with intellectual disabilities, adult individuals with Alzheimer's/dementia and senior citizens. I also teach restorative yoga classes.  Some of the agency programs I teach for include the City of Savannah Therapeutic Recreation Adult Day Care Program, Bryan County Senior Centers, the Byck Center Adult Day Care,   Edel Caregiver Institute with Savannah Hospice, Henry County Therapeutic Recreation Program, and Chatham County Recreation Programs  (Frank G. Murray and Lake Mayer).  I also lead a Spry Mat Tunes class for Spry Mind and Body.   I also lead chair based Zoom classes for senior citizens and adults with intellectual disabilities.  Additionally, I lead yoga related book clubs.
I am also trained in Trauma Sensitive Yoga, Yoga Nidra, Restorative Yoga, Healing Yoga for Cancer, Mindful Self Compassion, QiGong and Power Yoga.
Specialization: Senior Citizens, Adults with Intellectual Disabilities, Restorative
You may contact Franessa at yoga.franessa@yahoo.com.
♣  ♣  ♣
---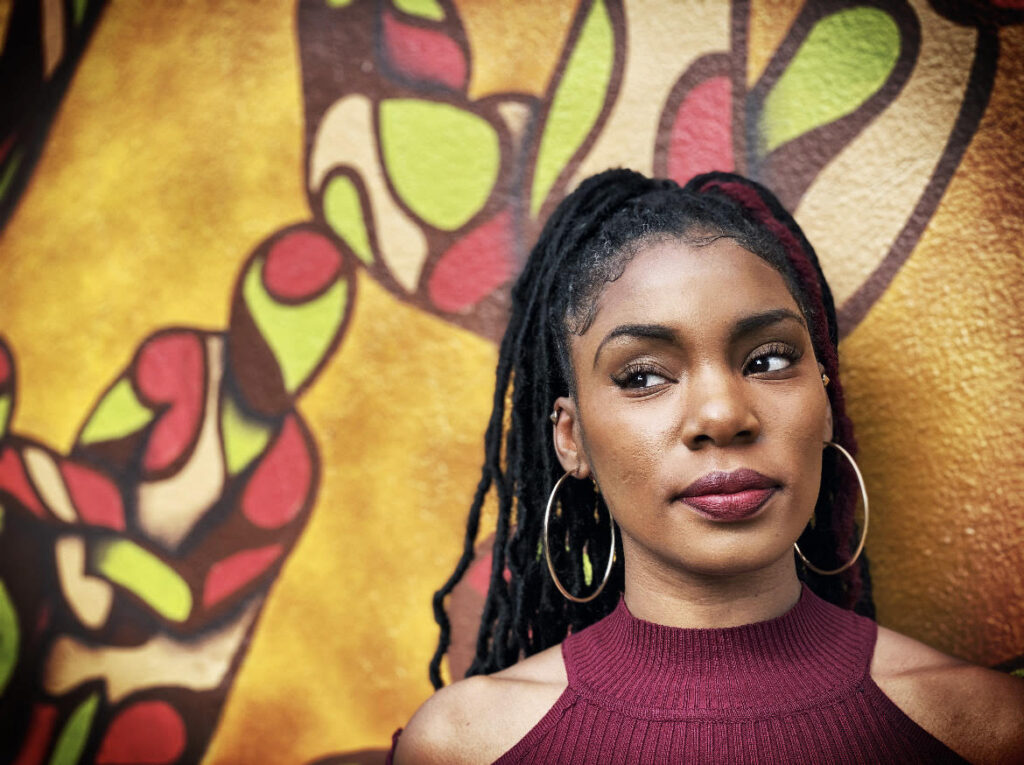 Leonora Bogus, also called "Leo" is a 500 hour registered yoga instructor and certified trauma sensitive yoga teacher, reiki master, wellness coach, and certified meditation specialist. She is also a suicide bereavement certified facilitator.
After 20 years in corporate America specializing in diversity and inclusion, she decided to pursue her passion to teach underserved populations yoga and meditation techniques.
She specializes in several styles (kundalini, hatha, vinyasa, yin, and rocket yoga). The goal of her practice is to honor your breath, take up space, and be your most authentic and best self.
Domestic violence, Teens, BIPOC, Women, Veterans
Specializations: Domestic violence, Teens, BIPOC, Women, Veterans
You may contact Leo at mooreleonora@gmail.com.
♣  ♣  ♣
---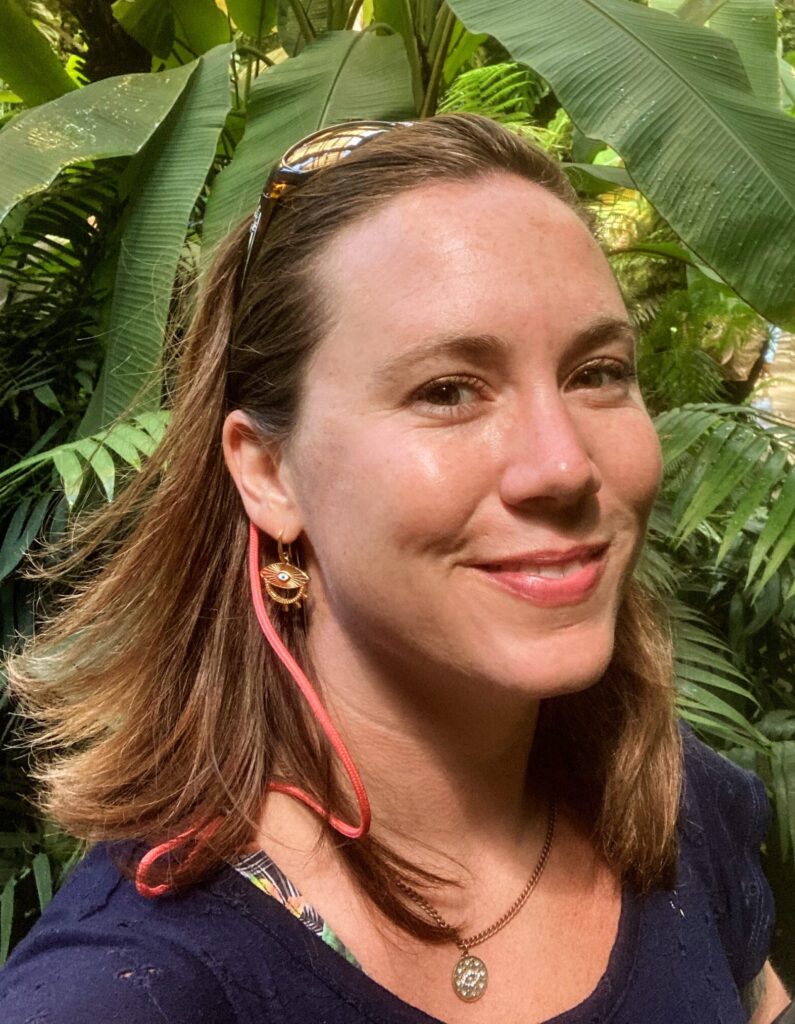 KT O'Brien is a 500hr E-RYT with over 1600 teaching hours. She began taking yoga classes at a young age to complement her ongoing ballet practice and completed the 200hr yoga teacher training in 2014. KTO is a certified Aerial Yoga, SUP Yoga, and Trauma Sensitive Yoga Teacher. Additionally she has completed a Mindful Self Compassion Course. Over many years she dabbled in most every yoga style she could find from Ashtanga to Kundalini to Power to Restorative and Yin. Each class she teaches weaves in therapeutic elements and is adapted to the needs of the students that day. Yoga Philosophy and living the practice off the mat are especially important in her own life.
KTO revels in teaching beginners and sharing this gift of yoga with students for the first time! Most important is for her students to feel safe and comfortable in the class space. Absolutely everyone is welcome in these classes. Her company KTO Yoga Surf (www.ktoyogasurf.com) was founded in 2017 and serves the surrounding area of Savannah as well as international Yoga + Surf Retreats in Costa Rica.
Specializations: Yoga for all bodies, Beginners, Women Empowerment, Youth.
You may contact KTO at ktoyogasurf@gmail.com
♣  ♣  ♣
---
"Yoga is the journey of the self, through the self, to the self." 
― The Bhagavad Gita