Chatham County Child and Adolescent Behavioral Health Services Directory (Ages 0-17)
Chatham County Safety Net Planning Council Resource Brochure 2019-2020 (Printable PDF)
Chatham Savannah Authority for the Homeless Resource Guide
Dental Lifeline Network: Access to affordable dental care and education
Health Effective Resource Organizations (HERO), St.Joseph's/Candler African-American Health Information & Resource Center
Edel Caregiver Institute (Hospice Savannah Caregiver Support)
---

Information and Guidelines
Financial Assistance
National Mental Health Resources
Mindfulness and Self-Compassion Resources for Emotional Wellbeing 
---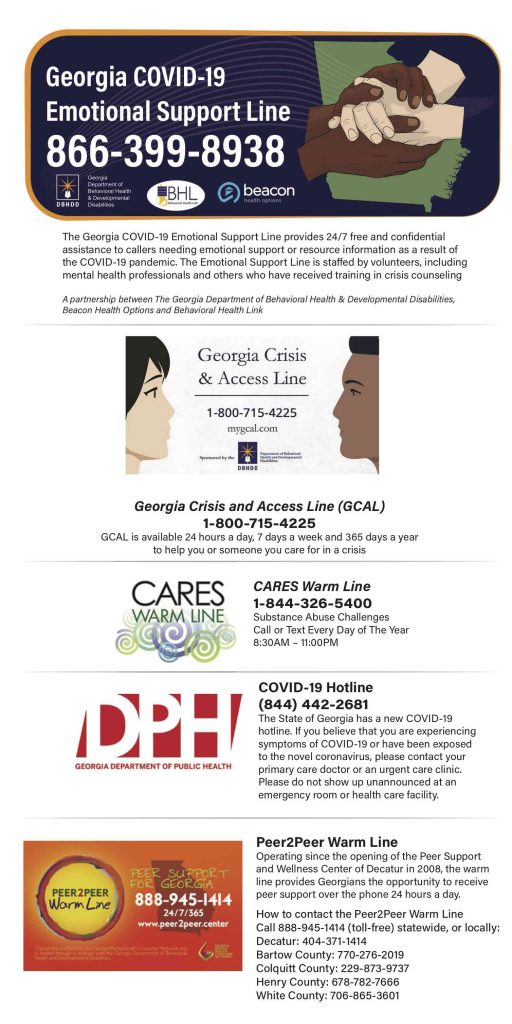 Chatham County Safety Net Planning Council's (CCSNPC) committed to making its programs, information, and technology accessible in accordance with Sections 504 and 508 of the Rehabilitation Act of 1973. CCSNPC provides various auxiliary aids and services, including alternate formats and relay services, at no cost to better communicate with people with disabilities.
To request an auxiliary aid or service, you can:
Call 912-644-5219.
Send a fax to 912-349-5691.
Send an email to info@chlink.org.
Send a letter to:
Chatham County Safety Net Planning Council
400 Mall Boulevard, Suite G
Savannah, GA 31406
Attn: CCSNPC Alternate Format
Your request for CCSNPC publications should include:
Your name, phone number, and the mailing address where we should send the publications.  The publication title and CCSNPC Publication, if available.  The format you need, like Braille, large print, compact disc (CD), audio CD, or a qualified reader.
Georgia Family Healthline