Partnering with Remote Area Medical-RAM®, the Planning Council has conducted two Free Adult Dental Events in Garden City in August 2021 and August 2022.  RAM® is a major nonprofit provider of free popup dental clinics across the country. Adults received one free dental service (extraction, filling, or cleaning). RAM's® mission is to prevent pain and alleviate suffering by providing free quality healthcare to those in need.
---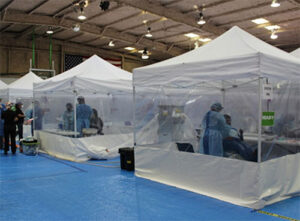 What were the results of the Free Adult Dental Events?
$174,912 Value of Free Dental Services
411 Patients Served
525 Extractions
75 Fillings
100 Cleanings
---
319 patients had no dental insurance.
71 patients had some level of dental insurance.
84 people visited an emergency room in the past year for a dental need.
6 patients received immediate referrals to local Federally Qualified Health Centers or dentists.
302 oral health cancer screenings were completed by faculty and students from the Georgia Southern University, Communication Sciences and Disorders program.
26 patients received vaccinations with the Pfizer vaccine by our partner CORE (Community Organized Relief Effort).
Patients completed satisfaction surveys (click here for sample survey) with overwhelming positive comments.
"absolutely wonderful experience"

"all staff very kind"

"friendly, great job, don't change anything"

"the service has been very good"

"fast, very professional"
What are people saying about the Free Adult Dental Events?
2021
2022
Picture Gallery of the Adult Free Dental Event, August 28-29, 2021
Picture Gallery of the Adult Free Dental Event, August 27-28, 2022
Financial and/or in-kind support provided by…