Empowering Our Community
From 2012-2019, over 300 individuals in Chatham County lost their life to suicide.
However, suicide is preventable. To equip our community with the skills to intervene when someone is having thoughts of suicide, the Chatham County Commission in conjunction with the Chatham County Safety Net Planning Council and Gateway Community Service Board are working to prevent suicide today.
Prevent Suicide Today is a community-based program working to prevent suicide by raising awareness about suicide and providing evidence-based suicide prevention and resiliency-building training. Through SuicideTALK, SafeTALK, and Applied Suicide Intervention Skills Training (ASIST) workshops, we equip our community with the skills for suicide prevention and intervention. With the Mindful Self-Compassion (MSC) training programs, we use upstream prevention to empower our community with the tools for emotional resilience and wellbeing.
Our efforts are directed toward building community capacity for suicide prevention and creating multiple layers of accessible and affordable resources for a suicide-safer compassion-focused Chatham County.
---
Download and share our September 2021 PDF Infographic in English and Spanish: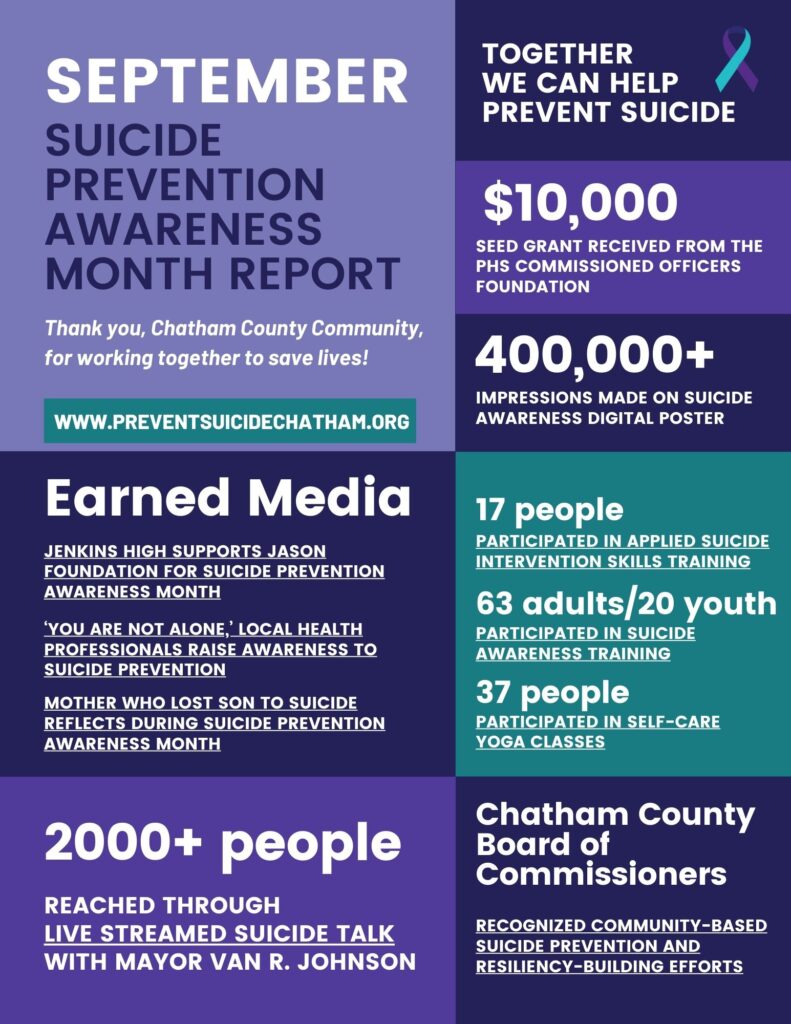 From September 2017 to September 2020 we:
Trained

13,000+

people in suicide prevention
Trained

800+

people in suicide intervention
Trained

2,000+

people in mindfulness & self-compassion
Collaborated with over

30

organizations
Supported over

25

 individuals to become trainers
---
Raising Awareness
The Steel City Gospel Radio, "Self-Discovery with Venessa Show". Listen to the September 2021 interview with Vira Salzburn here.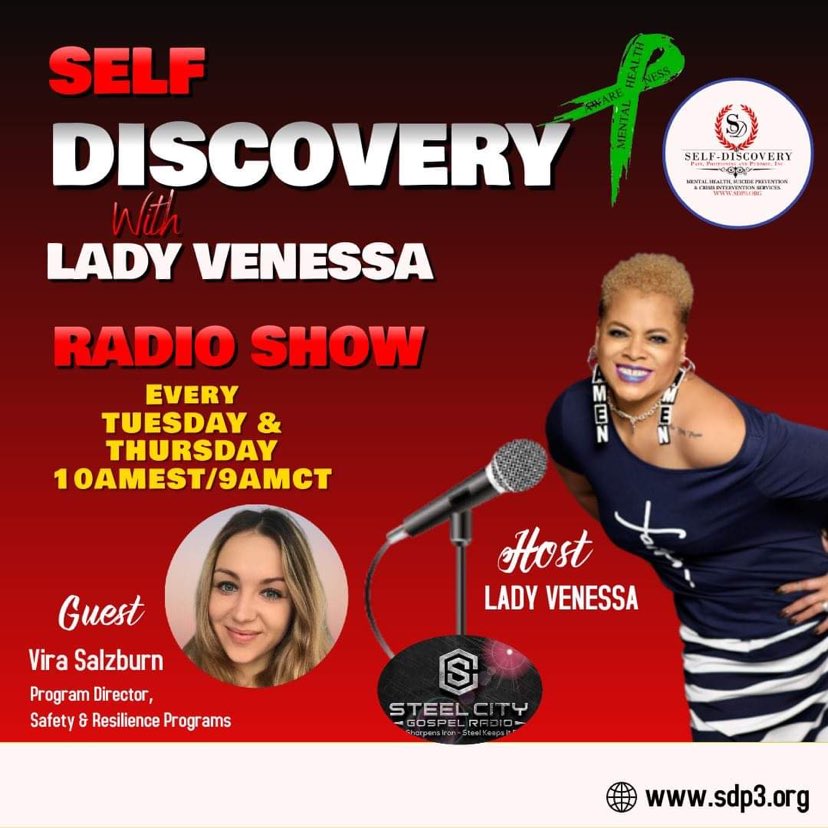 Teaching the Skills
Suicide prevention is everyone's business. We work to empower community members with the confidence to speak openly about suicide in order to create awareness that suicide is preventable and to promote overall mental health and well-being. Coupled with awareness, we teach community members the practical skills to intervene when someone is at risk.

84%
of participants increase their confidence to help a person at risk of suicide after an ASIST workshop

95%
of participants reported that the workshop has a practical use in their everyday life

---
Saving Lives
We help teach the skills, but it's community members from all walks of life that use them to save lives. Thank you for making Chatham County a suicide safer community.
---
Working Together
Our wonderful community partners work together to Prevent Suicide Today in Chatham County:
Chatham County Commission
Chatham County Health Department
Chatham County Juvenile Court
Chatham County Safety Net Planning Council
Chatham County Sheriff's Office
Chatham County Police Department
First Baptist Church of the Islands
Forever4Change Inc.
Gateway Community Service Board
Georgia Regional Hospital of Savannah
Georgia Southern University
Hospice Savannah-Demere Center for Living
MedBank Foundation, Inc.
Memorial Health University Medical Center
Savannah Fire & Emergency Services
Savannah Police Department
Savannah State University
Savannah-Chatham Public School System
St. Joseph's/Candler Health System
St. Mary's Community Center
The Front Porch
Union Mission
---
If you are having thoughts of suicide or need immediate assistance, please call the Georgia Crisis and Access Line at 1-800-715-4225
.