Alissa Boyd Named Outstanding Outreach Partner for the Coastal Campaign for Healthy Kids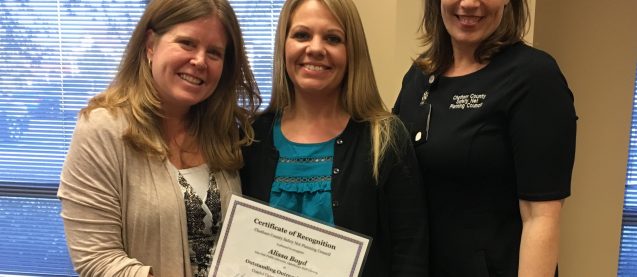 Safety Net honored Alissa Boyd, Outstanding Outreach Partner for the Coastal Campaign for Healthy Kids at the Full Council Meeting on January 29, 2018. She is Senior Branch Manager of the Oglethorpe Mall Library and formerly Senior Branch Manager of the Bull Street Library. The Live Oak Public Library System has been a key and much beloved outreach partner for the Coastal Campaign for Healthy Kids and an unwavering supporter of universal health coverage for Medicaid-eligible children and other public benefits enrollment services for citizens in its service area.
Alissa met Campaign Manager, Eva Elmer of Safety Net and Robyn Wainner of Step Up Savannah at a Public Benefits training for Live Oak staff in January 2015. At the end of that session, she approached Eva and asked if it would be possible to offer public benefit enrollment help at the Bull St. Branch. Eva was very excited about this opportunity because the libraries are such an important part of the community and a perfect partnership to promote free benefits assistance. The 2nd Tuesday of each month was set for a recurring enrollment event starting in March 2015.
Publicity was sent out, the enrollment assistors came and set up and no one came… Undeterred, Alissa and the Campaign staff plugged along, April, May, June, July…every 2nd Tuesday, the Campaign set up and no one came. In August, however, thanks to a reporter doing a "live remote" in front of the Bull St. Library steps early in the morning on the day of our event, there were 12 people waiting for our enrollers at 6pm that evening! Since then, the Bull Street Library enrollment event has became a key site to access children's public health insurance enrollment assistance. Who doesn't love going to the Library?!
In June 2017, the Campaign expanded services to 5 additional counties, Bryan, Effingham, Liberty, Long and McIntosh and Alissa helped facilitate the set up of recurring enrollment events at the Hinesville, Midway/Riceboro and Rincon and Oglethorpe Mall Branches. In 2016, Campaign Mobile Enrollers served 76 families with Medicaid, Peachcare for Kids, Pregnancy, SNAP, CAPs enrollment assistance. In 2017, we served 111 families and 28% of all children Safety Net's mobile enrollment assistors helped were served at a Live Oak Public Library! Thank you so much, Alissa!