Catham County Safety Net Planning Council Honors Its Founding Chair and Board Member, Diane Weems, MD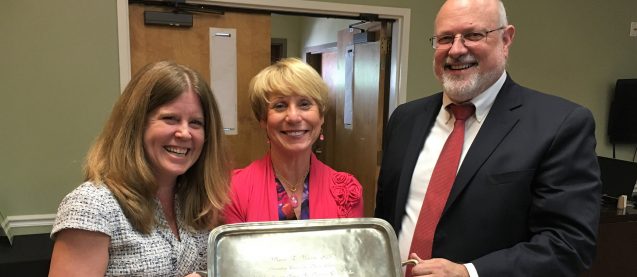 Catham County Safety Net Planning Council honored Diane Z. Weems, MD, Safety Net's founding Chair and Board Member, who retired as Board Chair in March 2018.
In grateful recognition for her visionary leadership, wisdom and unwavering commitment to the Council, and for always championing the needs of our most vulnerable in Chatham County, the Safety Net Executive Director Elisabeth Hayes and the new Board Chair, Mark C. Johnson, MD,  presented Dr. Weems with a special recognition award.
Since its founding in 2004—14 year ago—Dr. Weems have generously given Safety Net her time, her wisdom, and her dedication. As the Chief Medical Officer and then the Director of the Coastal Health District, she acted as the nonpartisan convener and brought together competing organizations in the healthcare sector creating trust and  building stronger and more meaningful relationships between the agencies.
"Your leadership, your counsel, and your expertise have helped our organization to make a tremendous impact on our community and have helped me grow both professionally and personally, " said Ms. Hayes in her heartfelt speech during the meeting.
Dr. Weems gratefully accepted the award and noted that she was delighted to see how Safety Net had grown over the past few years and was excited for the organization's future under its great  leadership.
Effective April 1, 2018 Mark C. Johnson, MD, CEO, Gateway Behavioral Health Services, Community Service Board, Coastal Georgia stepped into a role of the Safety Net Board Chair replacing retiring Board Member and Board Chair, Dr. Diane Weems.