Children's Special Services & Effingham County Health Department Recognized as Outstanding Outreach Partners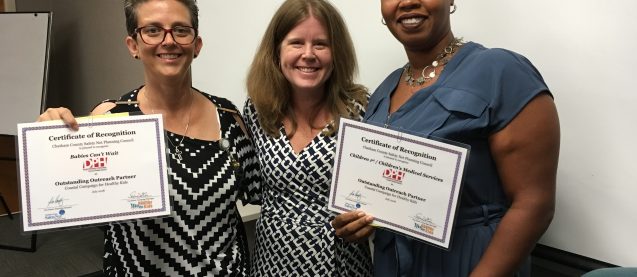 The Coastal Campaign for Healthy Kids recognized the Effingham County Health Department and Children's Special Services (CSS) which include Babies Can't Wait, Children's 1st and Children's Medical Services, as Outstanding Outreach Partners!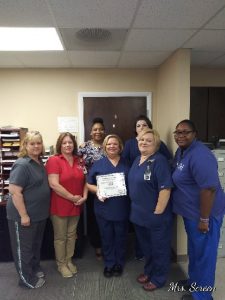 County Nurse Manager, Cynthia Grovenstein and her staff, Early Intervention Coordinator, Kim McCaliley, the Children's 1st & Children's Medical Services and Children's Special Services Coordinator, Jocelyn Hall accepted the recognition at the Safety Net Full Council meeting in July.  The Effingham County Health Departments serve families in Effingham County include the WIC Clinic for pregnant women and children.  CSS provides funding and support services for children with disabilities and chronic medical conditions.  The children have to have health insurance to qualify for the cost-sharing and access to critical therapies and specialists.  Safety Net recognized them for their sustained efforts in keeping the services of the Campaign top of mind with your team and trusting our enrollment assistors with their families.
Since the Campaign for Healthy Kids expanded to five additional counties in June 2016, the Coastal Health District has referred 156 families. Most of these referrals resulted in the submission of new or renewing application, checking up on an existing application or investigating a denial.   One case manager from Babies Can't Wait shared the impact one family who was referred to the Campaign staff with the following note. "Just wanted you to know about the family you helped, last week. Your efforts, by contacting your people in Medicaid, has brought JOY to this mom and dad. Her son's Medicaid was approved and retro-activated from August. She said her son had a heart appointment next month that she didn't know how it was going to get paid for. She said she had outstanding bills that will now be paid for. She was sooooo thankful…..I told her about you and she wanted me to thank you again."