Chatham County Safety Net Planning Council Receives Community Impact Award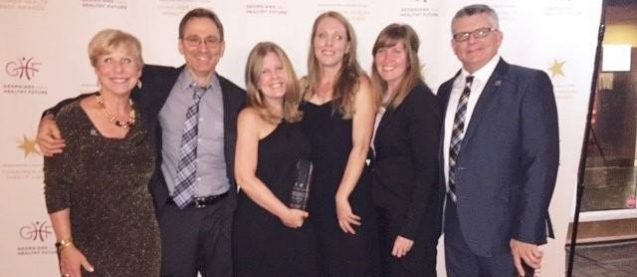 Representing the Safety Net Planning Council at the award presention are, from left, Diane Weems, Robert Bush, Lisa Hayes,  Laura Colbert, executive director of Georgians for a Healthy Future, Robyn Wainner and Lee Smith.
---
The Chatham County Safety Net Planning Council has been named as recipient of the 2017 Community Impact Award by Georgians for a Healthy Future, an organization dedicated to increasing access to quality affordable healthcare for all Georgians. The Community Impact Award is presented to an individual or organization whose work directly improves the health of Georgians in and around their community.
Safety Net was formed in 2004 by the Chatham County Commission to better understand and meet the needs of uninsured and underinsured residents in Chatham County to find ways to improve access to and maximize resources. Today, Safety Net is a county-wide planning body of key stakeholders including healthcare providers, government representatives, advocates, and consumers whose goal is to strengthen the infrastructure of and improve access to primary and behavioral health care, build capacity within our community's healthcare safety net system, and link the uninsured and underinsured to a medical home.
"This award is well deserved.  Chatham County is proud of the collaborative environment between our providers and stakeholders developed through Safety Net," said Lee Smith, Chatham County manager.  "These efforts have resulted in improved quality and coordination of care in our hospitals, federally qualified health centers and detention center, over 4,000 children being covered through Medicaid and PeachCare, and new programs to address the capacity gaps in behavioral health for our most vulnerable children and young adults."
Safety Net formed the Georgia's first health information exchange  nine years ago, which has since partnered with Georgia Regional Academic Community Health Information Exchange to support our HIE infrastructure. The HIE now benefits more than two million patients and includes non-traditional partners, including behavioral health, HIV+ and incarcerated populations to ensure we are working to improve outcomes and lower costs for our most vulnerable and underserved communities.  The Council also implemented the Coastal Campaign for Healthy Kids which helps provide free enrollment assistance for children and teens for Medicare and PeachCare for Kids.
In light of these successes, Safety Net is addressing unequal access and outcomes among vulnerable populations in behavioral health and implementing a community-wide suicide intervention and prevention program.  "This is a wonderful recognition of the work of the Safety Net staff and our community partners", said Executive Director Lisa Hayes, "I am so proud to be a member of this team!"
---
Article source: Savannah Morning News, October 3rd, 2017