Congressman and Chatham County Commissioner Visit J.C. Lewis Primary Health Care Center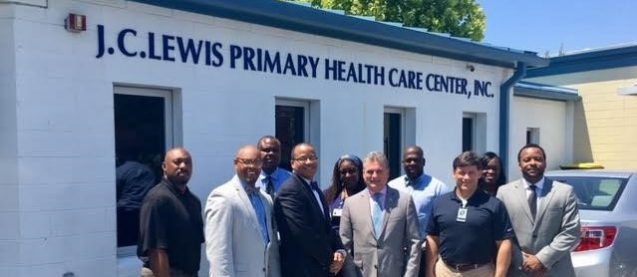 Savannah, GA — Congressman Buddy Carter and Chatham County Commissioner Jay Jones both recently paid a visit to J.C. Lewis Primary Health Care Center, Inc. (JCLPHCC), located in downtown Savannah. Both Congressman Carter and Commissioner Jones were given a brief presentation on the history of community health centers.  In addition, they were educated on the impact community health centers play in providing quality healthcare to all citizens regardless of their financial situation.
Commissioner Jones stated, "As a patient, I can attest first hand to the valuable work community health centers do."
Congressman Carter stated, "We believe in community health centers and the work they do."
JCLPHCC took great pleasure in meeting and talking with our elected officials regarding the impact of community health centers on healthcare. The tour concluded with discussion of current progress of JCLPHCC and looking forward to improving healthcare services to the community.