Operation Empower Health – Greater Savannah to provide no-cost healthcare services for thousands in the region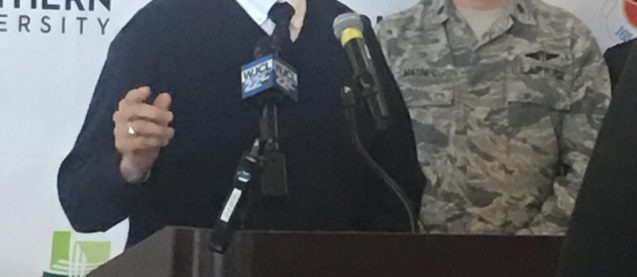 St. Joseph's/Candler and Georgia Southern University are supporting the U.S. Military to provide no-cost healthcare for those in need in our region.
Savannah was selected as the flagship site for the Department of Defense's 2018 Innovative Readiness Training Program after SJ/C and Georgia Southern submitted a proposal to host it. Dubbed Operation Empower Health – Greater Savannah, the training will have troops from every branch of the military in town to provide medical, dental, vision and veterinary services for more than 6,000 people. The services will be provided at various locations in Chatham County from May 10-18.
Key partners in Operation Empower Health are the City of Savannah, Garden City and Savannah State University, all of which will be providing space for the medical services as well as a place for the troops to bed down and eat.
Innovative Readiness Training (IRT) is a U.S. military training opportunity that provides real-life deployment training and readiness for military personnel while addressing public and civil-society needs. The military services have always brought to bear their resources to help meet some of the country's civil needs. With IRT, the Department of Defense realizes simultaneous benefits from military training and readiness while providing quality services to communities through the U.S.
Operation Empower Health FLYER
Services offered – Among the services offered through Operation Empower Health – Greater Savannah are:
Medical
Physical exams
Sports exams
Patient education
Dental
Extractions
Fillings
Vision
Eye exams
Prescriptions
Fabrication of glasses
Veterinary services
Spay/neuter (only at Civic Center)
General exams
Rabies vaccinations
Locations
Those seeking the services of IRT may do so at the following locations:
Georgia Southern University's Armstrong Campus
11935 Abercorn Street
Savannah, Ga. 31419
Savannah Civic Center
301 W. Oglethorpe Avenue
Savannah, Ga. 31401
Savannah State University
3219 College Street
Savannah, Ga. 31404
Garden City Recreational Department
160 Priscilla D Thomas Road
Garden City, Ga. 31408
Hours of operation
Daily hours of operation at each site will be from 8 a.m. to 5 p.m. All are welcome, especially the under/uninsured. Services are available to those in Chatham and surrounding counties, including South Carolina.
Operation Empower Health FLYER
Retrieved March 7, 2018 from https://www.sjchs.org/in-the-community/operation-empower-health-greater-savannah